Peru Argentina Brazil
Covering almost 70 per cent of the South American continents, Peru, Argentina and Brazil represent the quintessence of the Latin American Culture and heritage. The sights, sounds and sensations of the Sacred Incan valley, the exalted glaciers of Argentina, the fabled Iguazu falls, the spirited beaches of Brazil, make for an adventure like never before.
Itineraries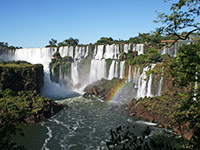 Peru-Argentina-Brazil
14N/15D
Lima – Cusco – Sacred Valley of Incas – Machu Picchu – Buenos Aires – El Calafate –Buenos Aires – Rio De Janeiro – Iguazu – Sao Paolo.
Explore More