Niagara Falls
If ever there was a place to unravel the romance within you, it ought to be the majestic Niagara Falls. The thundering bands of water falling into the void and throwing sprays of water high up above is just the sight to open your senses to the beauty and magnificence of the nature.
A trip to Niagara Falls ought to be felt in all possible manners, on a river cruise, a walk through the falls and a bird's-eye view of its sheer magnitude. Being one of the must-see destinations across the world the Niagara Falls offers a perfect getaway for couples as well as young and old alike.
Itineraries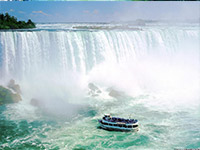 Niagara Falls
7N/8D
New York – Corning – Niagara Falls – Philadelphia – Washington DC.
Explore More