Hawaiian Islands
Discover the tropical beauty of Hawaii during this magnificent vacation, and enjoy pure tropical bliss as you island hop. Whether you're watching lava flow from an active volcano, admiring the natural beauty, or just relaxing on the warm sands of a lazy Beach, you're sure to be delighted. Soak in history and culture of the Hawaiian Islands, be mesmerized by the pineapple and sugar cane fields, and thoroughly savour Kona coffee, some of the best coffee in the world! The Hawaiian Islands offer all of this and much more. From luaus, snorkelling, aquariums, and volcanoes to beaches and lush rain forests, this is a vacation that has something for everyone. Just sit back and relax.
Itineraries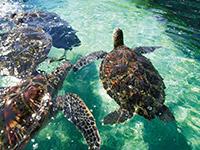 Splendours of Hawaiian Islands
12N/13D
Honolulu – USS Arizona (day tour) – Hilo – Hawaii Volcanoes National Park – Kona – Kauai – Maui – Haleakala National Park (Day tour).
Explore More