South Africa
Roughly the size of Spain and France combined, or Texas, South Africa is situated at the very southern tip of Africa. The Atlantic and the Indian Oceans wash its shores and meet at Cape Agulhas – one of the only places in the world where a person can watch two oceans meet.
South Africa may be at the bottom of Africa, but it's widely regarded as being top in terms of its superb infrastructure, its legendary sunny climate, and it's incredible geographic diversity – expect superb beaches, dramatic mountain ranges, sophisticated cities, quaint villages, historic battlefields, oceans, valleys, bushveld teeming with game, hundreds of species of birds, great and small semi-deserts, wide open spaces ... and much more.
That's why South Africa offers something for every potential visitor.
South Africa is a dream destination in so many ways because of its incredible geographical diversity, its superb infrastructure, its legendary sunny weather, its super-friendly people and its affordability.
South Africa has nine provinces. Probably the best known to international visitors are the Western Cape, home of Cape Town and the Cape Winelands; Mpumalanga, famous for its spectacular scenery and the Kruger National Park; and KwaZulu-Natal, with its capital city, Durban, historic battlefields and wonderful beaches. The other six provinces – the Northern Cape, Eastern Cape, Gauteng, Limpopo, North West and Free State – also offer their own unique sights and experiences.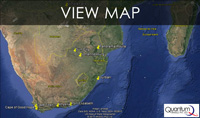 Itineraries
Explore More