Switzerland
Experience the grandeur and magnificence of the Swiss Alps. From mountain peaks that soar more than 4,000 meters into the sky to the awe inspiring glaciers and gigantic rock formations abound. Soak in the beauty of Alpine meadows dotted with little hamlets and a burst of colourful flowers. Relax by the shores of calm blue mountain lakes reflecting the majestic windswept pines and larch trees. Experience the history and heritage through cog-wheel trains and airy gondolas effortlessly reaching the top of the highest peaks.
With snow-capped Alps, forested hills, fairy-tale castles, Renaissance cathedrals, shimmering lakes, stylish spas and luxury ski resorts, it's easy to see why Switzerland has been one of the world's top tourist destinations for the past two centuries.
Itineraries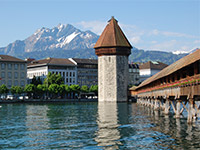 Amazing Swiss
7N/8D
Zurich – Lucerne – Mount Titlis – Interlaken - Jungfrau – Jungfraujoch – Rhine Falls.
Explore More